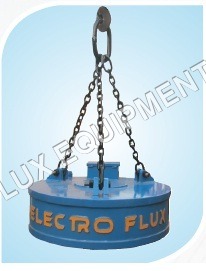 Circular Lifting Electromagnet
Price And Quantity
100000.00 - 400000.00 INR
Product Specifications
Product Description
Circular Lifting Electro Magnet

ELECTRO FLUX EQUIPMENTS is a well known manufacturer, exporter and supplier of Circular Lifting Electro Magnet. It can manage tons of scrap continuously throughout the day. Our offered product is used in metal working plants to hoist and transport forgings, plates, booms, channels, rods and bars. Because of the reason that they can lift steel more quickly and conveniently, it saves lots of time and efforts. Moreover, it is equipped with lifting magnet due to which there is no need to attach and secure lifting support and block up the loads on the floor or move the mechanical devices.
Applications:
Used to lift and transport magnet conductive materials like iron and steel in metallurgy industry ,machinery industry, ,mine industry and transportation industry and etc.
Features:
Rigid construction with full moisture proof strong attraction force and less energy consumption. This product is designed to improve the mechanical property and electrical property of the energizing coils. Convenient and simple installation, operation and maintenance.
This Circular Lifting Electro Magnet is designed to ensure protection and are double entry type that enable the leads from the coils that is sealed in a separate cavity.
The outside cable is transfer through as gland into this second compartment that ensures no possibility of moisture entering the windings. Those magnetic coils which are size up to 900 mm is pure annealed wire wound and above this size are strip wound. With Fibreglass Aramid tape glass insulation of class H standard forming an inter layer that make the coil withstand high temperature.
The Bumping Plates are of top quality Manganese Steel Casting as per IS-276 along with heavy ribs for added strength. These are clench in the position by the enter and outer poles that provide complete protection to the coil. forged steel terminating in a forged ring. There is two core cable which provide connection with the supply and suitable Insulated plug and socket provide easy operation.
Other Details:
As per the requirement and demand of our valued customers, we are providing the range of circular-lifting-electromagnet. As per the IS:4491(bss-1617) to provide the most efficient magnetic circuit, the shells of circular lifting magnets are made from high permeability steel casting. An increased radiation surface to aid cooling and to give mechanical strength, the periphery of the magnet is heavily ribbed. To protect heads of through tensile bolts, center & outer poles are machine from high permeability magnet steel with cored recesses arrangement. Our team make sure the pole shoes are easily replaceable, the outer poles of larger magnets are skirted for added and the faces of poles from spigot joints in magnet shell. Our company is client-oriented, make sure to fulfill all the requirements of the clients. Furthermore, we assure you the timely delivery of all the ordered products. Our company is offering the range of circular-lifting-electromagnet at nominal rate.
Specification:

MAGNET MODEL NO.
SIZE OF MAGNET DIA.
KW
APPROXIMATE WEIGHT OF MAGNET KG.
LIFTING CAPACITY
HEAVY MELTING SCRAP
PIG IRON
STEEL TURNING
SINGLE SOLID
EF CLM 1
650
2.5
600 KG
150
90
75
2500
EF CLM 2
1000
6
1.2 T
500
620
210
8000
EF CLM 3
1250
8
1.7 T
720
900
300
12000
EF CLM 4
1350
12
2.5 T
1000
1200
400
15000
EF CLM 5
1550
15
3.5 T
1400
1600
500
18000
EF CLM 6
1800
18
5 T
1800
2300
800
22000

Contact Us
No: 5A, 2nd Street, Sakthi Nagar, Puthagaram, Kolathur, Chennai, Tamil Nadu, 600099, India
Phone :91-44-26510407/26511407/26512407/26512405