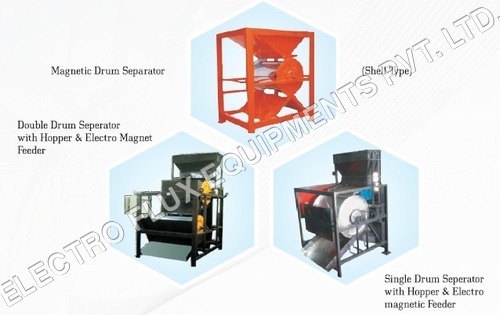 Magnetic Drum Separator
Product Description
Magnetic Drum Separator

Being a proficient manufacturer, exporter and supplier in the market, we are engaged in providing optimum quality Magnetic Drum Separator. It provide high level of magnetic strength and perfect for many applications such as auto shredding, mining, aggregate or where large volumes of metal need to be removed. Its concept is very simple, the material is fed to shell revolving around a stationary magnet. The Ferrous metal last on shell surface until it passes from the magnetic field.

The overall drum separator comprises with self-cleaning magnet, which can be provide as drum as a complete assemble drive and housing included. The materials that can be processed is entered on the top of the drum and flows across the surface of the drum. When the drum shell rotates around the stationary magnetic field, all the Non ferrous product which is unaffected by the magnet falls from the drum.

Features:

Lowest intensity magnetic separator with relatively high magnetic field

Reliable operation, easy maintain,

Serialized products and standardized parts,

Long Functional Life

Approximately of 135 Deg fixed inside rotating SS Drum.

Automatic self cleaning mechanism.

Available in Single / double and triple drum complete unit.

Fixing blocks and Shaft for adjustment

High volume through puts.

Low maintenance.

Made with Strontium ferrite magnets.

Magnetic drum Separators made by using Aluminum or Copper conductors.

Minimal spare parts required

Robust design.

Supplied with hopper
Magnet Drum Separator Working :
After the ore slurry tank into the tank after the water pipe water to the mine under the influence of mineral particles into the tank was loose state of a mine.

The role of the magnetic field, magnetic mineral particles to the magnetic pole movement magnetic agglomeration occurs, and be attracted to the cylinder.

The polarity of the magnetic poles along the alternating direction of cylinder rotation, and at work be fixed, due to alternating magnetic pole magnetic stirring produced the phenomenon of non-magnetic minerals in the turning off, and eventually the suction surface of the cylinder is a concentrate.

Concentrate along the edge of magnetic cylinder to the weakest at the magnetic system, mineral water spray in the unloading effect of flushing water was discharged into the concentrate tank, if it is full magnetic roller, brush roll unloading ore is carried out with .

Non-magnetic or weakly magnetic minerals are left with the pulp slurry in the discharge groove.
Magnet Drum Separator Applications:
Suitable for any dry material.

Remove fine iron particles and iron oxides from mixed materials

Glass, cement, pharmaceuticals, metal recovery and plastic industries.

Most economical automatic iron removing equipment for large volume for dry powders, granules & crushed materials.
Contact Us
No: 5A, 2nd Street, Sakthi Nagar, Puthagaram, Kolathur, Chennai, Tamil Nadu, 600099, India
Phone :91-44-26510407/26511407/26512407/26512405