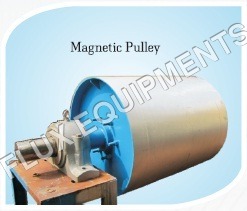 Magnetic Head Pulleys
Price And Quantity
150000.00 - 225000.00 INR
Product Description
Magnetic Head Pulleys

Owning to the huge industrial experience and knowledge, we are counted among well known manufacturers, exporter and suppliers of Magnetic Head Pulleys. It provides protection against tamp iron contamination of both fine and large particles. When the product is passes over the pulley, non-ferrous material is release in a normal trajectory. The ferrous metal attracted toward the pulley and last on the belt until the belt moves away from the pulley. This separation is either automatic or pulley. Moreover, it is mostly used in Recycling/Processing of plastic, glass, wood, aluminum and other non-ferrous materials flows which includes food, grains, textile, ceramic, Chemicals and coal. Metal recovery/separation of fasteners, blanks, wire, chain, tools and other ferrous objects from your product flows.

Magnetic Pulley Features :

Cost effective
Protects process equipments
Prevents breakdowns

Magnetic Pulley Types of Strength :

Heavy Duty - Belt speed to 2 m/s, used in Heavy Duty, Mining and Foundry with burden depths up to 100 mm.
Medium Duty - Used for material recovery facility and in construction & demolition, and for general used with burden depths up to 75 mm. Belt speeds to 2 m/s.
Light duty - Belt speeds to 1.8 m/s, and use with burden depths up to 50 mm. It is good for secondary clean up of various fines and tramp iron.

Magnetic Pulley Benefits :

No operating costs
Cost effective
Excellent for secondary separation
Prevent costly breakdowns
Protect processing equipment
Increases product purity by removing unwanted iron.

Magnetic Pulley Applications :

Chemical, rubber, pharmaceutical
Coal cleaning/ desulfurization
Crushed or broken stone
Food, ceramics, mining
Foundry, e-waste processing
High quality carbon/quartz cleaning
Pallet recycling, glass recycling
Paper & pulp, slag, sand, wood chips
Pigment & paint, glass, plastics
Portable crushing plants
Processing of municipal waste
Recovery of metal in ore processing
Shredded tire processing
Wood & plastic recycling

Contact Us
No: 5A, 2nd Street, Sakthi Nagar, Puthagaram, Kolathur, Chennai, Tamil Nadu, 600099, India
Phone :91-44-26510407/26511407/26512407/26512405