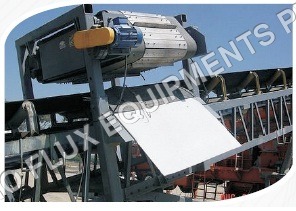 Overband Magnetic Separator
Price And Quantity
150000.00 - 300000.00 INR
Product Description
Over Band Magnetic Seperator (OBMS)

Due to our ethical business polices and honest business dealing we are listed our name among the well known manufacturer, exporter and supplier of Over Band Magnetic Separator . Its is mainly designed for installation over conveyors where the tramp iron contamination exists and required to removed for protection of subsequent processing machinery. This magnetic separator comprises of stationary tri-polar design magnet unit, with coils wound in aluminum wire or foil and insulated to Class 'H' temperature specification in order to receive DC power supply. The magnets can be air or oil cooled, that is more suitable for the applications.
Overband Magnetic Separators Construction:
Drums are equipped with shafts mounted are fixed for fastening and supporting bearings and on the magnet two U-section pieces are fixed. For tightening the belt, all bearings equipped with stakes. To Electric Motor or Geared Motor, the belt is driven by a Reduction Gear Coupled.
Overband Magnetic Separator Magnet Unit:
To cover the poles of Magnet, a Non-Magnetic Stainless Steel Plate is provided. Even there is no need for any maintenance or electrical supply. Furthermore, the Magnetic Power is guaranteed throughout the life of installation, as the Magnet is made of High Intensity Strontium Ferrite Magnets.
Overband Magnetic Separators Applications:
Abrasive Industry
Animal Feed Industries
Ceramic Industry
Chemical Industry
Coal Industry
Mineral Processing
Paper and Pulp Industry
Petroleum Industry
Recycling Industry
Rubber Industry
Overband Magnetic Separator Features:
100% duty cycle design and construction
2-Pulley construction
Automatic discharge of collected tramp iron
Available in widths from 16" to 90"
Dust and rain protection
Easy to install and operate
Four point suspension
Heavy and High efficiency
Longitudinal cleaning over the conveyor belt.
Low maintenance and guaranteed performance
Maintenance free
Manufactured to customer specification
Operates in hazardous environments
Permanent magnetic suspension
Powerful Strontium Ferrite magnets.
Removable dust-proof housings
Robust industrial Design
Rugged
Vibratory feeders or inclined planes.
Wear-resistant manganese steel bottom plate
Cross Belt & Inline Over Belt Separators:
This cross suspended separator provides solution for self cleaning industrial magnetic separator systems. All the Ferrous metals are magnetically take out of your non-ferrous conveyed materials. These ferrous materials are collects on the self cleaning magnetic separator belt and are transfer and discharged to the hopper.
This Over Band Magnetic Separator self cleaning type includes two pulley design. This self-cleaning magnets are mounted in line with the material flow and the cross belt self-cleaning magnets that remove the ferrous materials on the side of conveyor.

Self Cleaning Components:
Four point suspension
Heavy cleated rubber belt
PMDC motor
Rugged structural steel frame
Self-aligning sealed bearings
Shaft mounted speed reducer

Contact Us
No: 5A, 2nd Street, Sakthi Nagar, Puthagaram, Kolathur, Chennai, Tamil Nadu, 600099, India
Phone :91-44-26510407/26511407/26512407/26512405