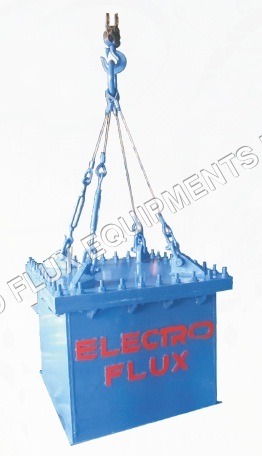 Suspension Electromagnet
Price And Quantity
145000.00 - 185000.00 INR
Product Description
Suspension Electromagnet

Our company is one of the leading Manufacturer and Supplier of Suspension Electro Magnet. It is used for removing iron from powdery or lumpy non magnetic material. The energy of magnetic force is produced, when the electric current pass through the iron core and if the insulated wire coil is wrapped around an iron core, then a high intensity magnetic field will be produced. A stronger magnetic field is generated, when the electric current pass through the insulated wire coil. It has a deep penetration strong magnetic force and high field gradient and can provide max attracting force, as Magnetic circuit adopts computer simulation design. The shell of suspension electro magnet is welded by sealed steel plate and a vacuum filling epoxy resin has been added between coil & shell to enable the equipment work well even in harsh working conditions. It includes a Natural cooling mode, which causes a less risk of fault occur. The removing rate can up to 95% or more and the suspension electro magnet can remove 0.1~35 kg materials from non-magnetic materials. Our valued clients can avail the benefit of our product at competitive price.

Features:

It comes along with control panel

Operating height up to 150 mm to 450 mm are available

No power consumption

Maintenance free.

Convenient maintenance.

Easy to form a complete set

Good environment and climate suitability,

Heavy duty impact plate.

Insulated copper/Aluminum coils.

Internal expansion tank.

Long service life.

Non-combustible coolant.

Safe and reliable

Stainless steel angled cleats.

Steel dust enclosures for magnet installations in dusty locations.
Suspension Electro Magnets Applications :
Reclamation of Ferrous or Non-Ferrous Material

Protection of Processing Equipment

Salvage of Valuable Items

Reliable Tramp Iron Removal from Fast-Moving Conveyors in Processing Industries for Purification of Product or Ingredient for Higher-Quality End Products.

Contact Us
No: 5A, 2nd Street, Sakthi Nagar, Puthagaram, Kolathur, Chennai, Tamil Nadu, 600099, India
Phone :91-44-26510407/26511407/26512407/26512405