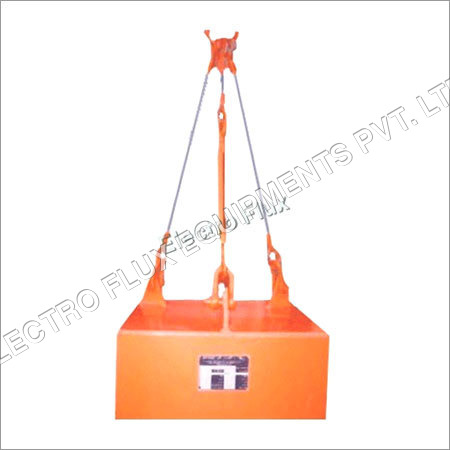 Suspension Permanent Magnet
Product Description
Suspension Permanent Magnet

With huge industrial knowledge and experience, we are counted among the well famous manufacturer, exporter and supplier of Suspension Permanent Magnet. It is designed for installation over conveyors where tramp iron contamination exists and require to be remove for protection of providing cleaner product. If the magnet surface start fill up then swing the magnet away from the conveyor and cut the power to release the attracted metal.
Moreover, this permanent magnet consisting of aluminum or copper wound coils in order to prevent to overheating or shorting. Also, it is come along with control panel and available in operating height up to 150 mm to 450 mm. This manually cleaned magnets can be supplied with a stripper mechanism.

Features:
No power consumption
Virtually maintenance free
Highly Durable
Cost Effective
Convenient maintenance.
Easy to form a complete set
Good environment and climate suitability,
Heavy duty impact plate.
Insulated copper/Aluminum coils.
Internal expansion tank.
Long service life.
Non-combustible coolant.
Safe and reliable
Stainless steel angled cleats.
Steel dust enclosures for magnet installations in dusty locations.
Suspension Permanent Magnet Options :
Easy clean stripper pan
Stainless steel plates
Suspension kit for fixed mounting to conveyor frame
Turn buckles
Suspension Permanent Magnets Selection :
Depends on width and speed of your belt conveyor.
Feed depth
Feed material
Selection this type magnetic separator depends on the
Size
Suspension Permanent Magnet Applications :
It used in wide in various industries like :
Building industry
Cement industry
Ceramic industry
Chemical industry
Food industry
Glass industry
Metal industry
Non-metallic ore industry
Ore industry
Paper-making industry
Pharmaceutics industry
Power industry
Sugar refining industry
Suspension Permanent Magnets Typical Applications :
Separation of ferrous contamination in quarries.
Recover ferrous metal in waste management process.
Removal of ferrous materials in mining operations.
Magnetic extraction of ferrous particles in wood processing.
Contact Us
No: 5A, 2nd Street, Sakthi Nagar, Puthagaram, Kolathur, Chennai, Tamil Nadu, 600099, India
Phone :91-44-26510407/26511407/26512407/26512405