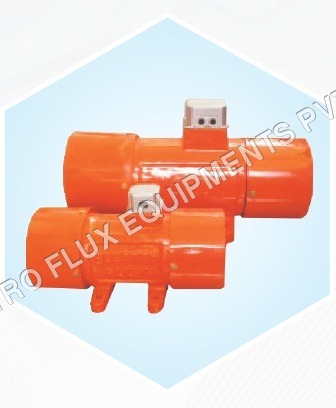 Vibratory Motor
Price And Quantity
250000 INR

15000.00 - 2500000.00 INR
Product Specifications
Product Description
Vibratory Motor

Our company is a prominent Manufacturer, Exporter and Supplier of Vibratory Motor. We have a team of skilled professionals, they make sure all the products are manufactured by using op quality material and advance technology. Furthermore, we ensure you the timely delivery of all the ordered products. Vibratory Motor is available for all the valued clients at market leading price.

Features:

"F" Class Insulation to Suit up to 600C
Degree of protection for Vibratory Motors will be IP-55/65
Heavy Duty Bearings coordinated to the speed and strain in order to offer increased operational dependability
Power Connection: 3 Ph, 415V, 50Hz. A.C. Supply
Shaft made from EN-8
Steel Unbalanced Counter weight fixed at both side of the Motor with the provision for regulation of the oscillation from zero to maximum Vibratory force by easily adjustment
The complete stress relieved cast Iron body

Vibratory Motor Applications :

Used on hoppers, silos to prevent congestion of material flow.
Used in various material handling equipment such as conveyors, feeder and vibrating screens.

Vibratory Motor Specifications :

Ambient temperature: Up to 60ºc
Centrifugal force range: From 42 to 14250 N
Operating torque range suitable for vibrating units: From 3.6 to 3600 Kgs
Power connection: From 3 Phase current with 50 Hz 415 V A.C
Rated consumption: 0.1 to 10 KW
Working weight range: From 1 to 6000 Kgs

Other details of Vibratory Motor are :

Absolutely secure centrifugal mounting
Dust-tight and water-tight through a sealing covering
High-powdered starting torque
One of two lifting lugs
Permanent and well legible setting
Quality-tested components, each motor tested under load
Universal mounting facilities
Vibration-proof joining
Specification :

MOTOR RPM
MODEL NO.
POWER KW
CENTRIFUG. FORCE Newtons
WORKING MOMENT Kg/CM2
DIMENSIONAL DETAILS (MM)
A
B
C
D
E
F
G
H
I
900 RPM
(I)
EF-VM-I-1
0.18
2800
49
105
165
20
205
140
80
280
195
12
EF-VM-I-2
0.37
4700
95
105
165
20
205
140
80
290
195
12
EF-VM-I-3
0.75
10000
180
125
190
30
220
165
100
390
210
18
EF-VM-I-4
1.1
15000
290
125
190
30
220
165
100
400
210
18
EF-VM-I-5
1.5
21000
400
190
240
30
300
115
120
500
270
25
EF-VM-I-6
1.85
26000
500
190
240
30
300
115
120
525
270
25
EF-VM-I-7
2.25
28000
550
195
240
40
300
240
155
700
350
25
EF-VM-I-8
3
30000
580
195
240
40
300
240
155
700
350
25
EF-VM-I-9
3.7
52000
950
195
240
40
300
240
155
750
350
25
1440 RPM (II)
EF-VM-II-1
0.18
2000
18
105
165
20
205
140
80
280
195
12
EF-VM-II-2
0.37
7000
65
105
165
20
205
140
80
290
195
12
EF-VM-II-3
0.75
15000
120
125
190
30
220
165
100
390
210
18
EF-VM-II-4
1.1
20000
160
125
190
30
220
165
100
400
210
18
EF-VM-II-5
1.5
30000
240
190
240
30
300
115
120
500
270
25
EF-VM-II-6
1.85
34000
260
190
240
30
300
115
120
525
270
25
EF-VM-II-7
2.25
42000
300
195
240
40
300
240
155
700
350
25
EF-VM-II-8
3
48000
400
195
240
40
300
240
155
700
350
25
EF-VM-II-9
3.7
50000
430
195
240
40
300
240
155
750
350
25
2880 RPM (III)
EF-VM-III-1
0.18
2200
5
105
165
20
205
140
80
280
195
12
EF-VM-III-2
0.37
6000
12
105
165
20
205
140
80
290
195
12
EF-VM-III-3
0.75
10000
20
125
190
30
220
165
100
390
210
18
EF-VM-III-4
1.1
14000
28
125
190
30
220
165
100
400
210
18
EF-VM-III-5
1.5
20000
40
190
240
30
300
115
120
500
270
25
EF-VM-III-6
1.85
24000
48
190
240
30
300
115
120
525
270
25
EF-VM-III-7
2.25
26000
55
195
240
40
300
240
155
700
350
25
EF-VM-III-8
3
30000
65
195
240
40
300
240
155
700
350
25
EF-VM-III-9
3.7
37000
77
195
240
40
300
240
155
750
350
25

Trade Information
Cash on Delivery (COD), Cash Against Delivery (CAD)

Within a certain price range free samples are available
Contact Us
No: 5A, 2nd Street, Sakthi Nagar, Puthagaram, Kolathur, Chennai, Tamil Nadu, 600099, India
Phone :91-44-26510407/26511407/26512407/26512405